EXPORT
We have carefully designed and produced hand warmers that produce consistent heat for periods more extensive
compared to products currently available in the market.
It's no surprise Happyday has always been the first choice for customers and retailers during the cold season
- we continue to be the leading manufacturer of hand warmers in Korea.
Based on our well-known quality and reliability, we are exporting our warmers to overseas countries.

Air-Activated
Our hand warmers are activated upon exposure to oxygen in the air when opened. Natural heat is then generated as oxidation of the content takes place.

Consistent and Comfortable Temperatures
Temperature of the hand warmers will maintain an average of 140℉ (60℃) and never exceeding 158℉ (70℃), depending on usage and storage conditions.

Comfortable for All Winters Need
Our handwarmers are designed with comfort in mind and are soft to the touch. With its large pack size, Happyday will keep you warm throughout the winter cold.
Dissipation Times
Happyday hand warmers will dissipate heat from a range of 10 to 20 hours per package depending on the type of hand warmers.

One is Enough to Deliver Ample Warmth
Happyday packages are packed with a single warmer that is sufficient to deliver long-lasting heat and even to cover both hands.

Proven Quality
As an ISO certified company, Happyday hand warmers are reliable and are based on well proven processes that enable consistency in delivering high quality products.
Features
1 warmer per pack
Ready to use
Activated upon exposure to oxygen
Provides instant heat
Disposable
Environmentally friendly
Specifications
Contents : Iron powder, water, activated charcoal, salt, vermiculite and polymer
Highest temperature: 158℉, Average temperature: 140℉
Duration depends on usage and storage conditions.
Shelf life : 3 years
Manufactured in Korea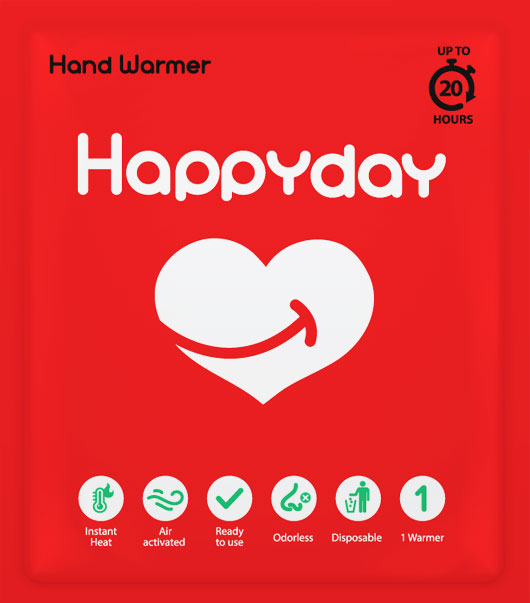 01
HAPPYDAY - Mega Hand Warmer 20Hour
Our 10 hour warmers are widely used by the general public - enough time for light outdoor activity and sustainable durations.
150g
Highest Temp. 70℃
Up to 20 Hours
150mm X 130mm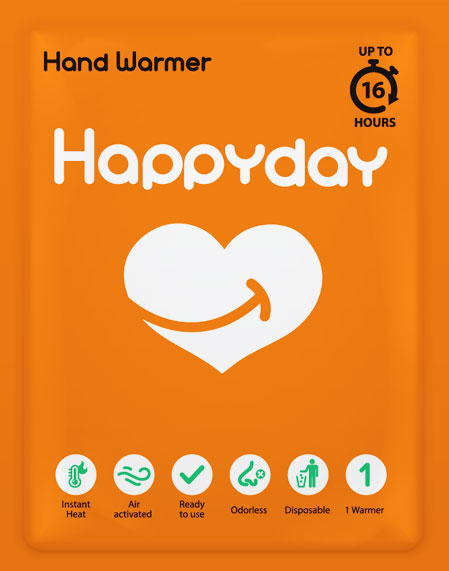 02
HAPPYDAY - Hand Warmer 16Hour
The 16 hour warmers and the most popular amongst the more active people who spend quite a bit of their time outside.
100g
Highest Temp. 70℃
Up to 16 Hours
140mm X 105mm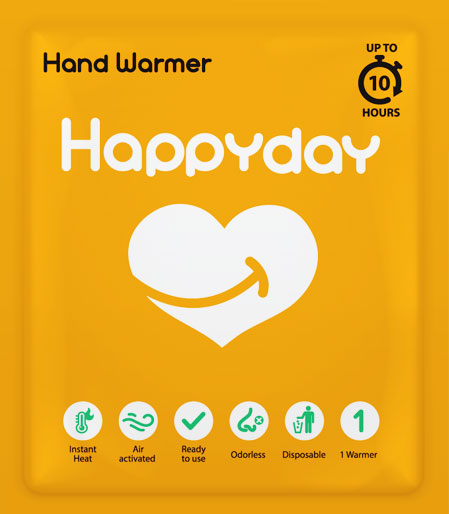 03
HAPPYDAY - Mini Hand Warmer 10Hour
20 hour warmers are used by the most demanding of users who spend most of their day braving the cold:from couriers, construction, heavy recreation to the extremes of the military.
45g
Highest Temp. 65℃
Up to 10 Hours
110mm X 100mm